裕豐

印刷有限公司

成立於1994年,公司的宗旨是以最快的生產時間,最合理的價錢,提供最優質的產品予顧客。

為了配合不同客戶的要求及公司的發展所需,本公司於2000年於東莞另設廠房,大大提高了本公司的工作空間及生產能力。

國內廠房設完善可以提供廣泛的服務,包括印前製作、柯式印刷、凸板印刷、絲網印刷、燙金擊凸、過油錶膠、切模包裝等。本公司由稿件製作,印刷、印貨加工到貨物運送皆提供一站式運作,因此能夠提供既穩定又快捷的服務。

本公司產品多元化,包括彩色貼紙、掛卡、條碼製作、橫頭卡、吸塑卡、單張、說明書、印嘜、燙嘜、織嘜、膠片、靜電貼、紋身貼、夜光貼、水印貼、燙畫等等。在強大的工作隊伍及全面生產設施的輔助,本公司為客人提供高質量的服務。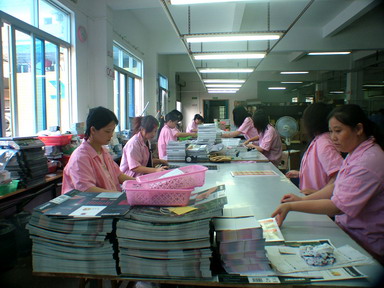 Yue Fung Printing Limited was found in 1994 in philosophy for delivering the best products in the fastest possible time wi th competitive price.

In order to meet varied expectations of different customers' needs and match up our company's development, Dongguan Dalang Yue Fung Printing Factory was set up in 2000 which highly enhance our company's working space and productivity.

Our factory are well-equipped which can provide a wide range of services including electronic pre-press, lithographic printing, letterpress printing, silk screen printing, embossing, hot foil stamping, laminating, die cutting, and packaging. All the procedures starting from artworks to the final packaging are completed under one roof in order to speed up the productivity and enhance the competency.

We provide a wide product ranges which cover color stickers, swing tags, computer barcodes, blister cards, header cards, leaflets, instruction sheets, sewing labels, PP acetate, temporary tattoo, glow in the dark, water transfer decal and heat transfer decal, etc.

Our strong work force and comprehensive production facilities ensure us to deliver the highest production standard to customers.